Get a health check, get moving and keep talking
November 29, 2018

Posted by:

Rameswar modukuru

Category:

News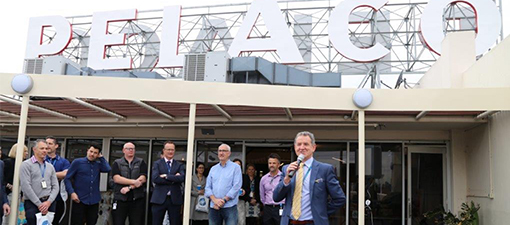 This was the take home message to around 80 staff who gathered on the Movember rooftop for a breakfast on Friday 9 November to support men's health at Epworth and across the community.
Speaking at the event, Dr Peter Larkins, Epworth Doctor, media personality and former athlete, said while there was still a long way to go, good progress had been made over the past decade in Australia to raise awareness and conversations about men's health.
He said the focus of men's health on physical  measurable things such as prostate, bowel, lung and skin cancers, heart disease and cholesterol, had broadened to include mental and spiritual health, inclusive of work life balance.
"As the Duke of Sussex said at the recent Invictus games, 'It's ok not to be ok'," he said.
Dr Larkins said historical barriers to change of apathy, embarrassment, and outdated male stereotypes was increasingly overridden by strong positive messages – including from high profile athletes, politicians and celebrities who had suffered in silence,  spoken up, and done something constructive to change their situation.
The main factors that determine health are genetics, a family history of an illness, environmental factors such as pollution, and behaviour, which includes areas like smoking, exercise and lifestyle Dr Larkins said. Whilst we can't do much about our genetics, behavioural choices contribute to around 50 per cent of health issues. Yet, we have a lot of control over these…. Exercise is the best non-pharmaceutical drug.
The other speaker at the event was Paul Villanti, who is the Executive Director of programs at Movember. Paul spoke to the array of initiatives that Movember is undertaking with respect to male mental health, and highlighted the importance but often overlooked factor of social connectedness in helping males leading healthier lives.
Grow your Mo this November to inspire conversations, donations and real change – and win great prizes!
All Epworth staff are encouraged to submit a photo of their Mo during the month of November.
Creativity is encouraged while extra points go to facially-attached follicles.
Entries to [email protected] by Friday 30 November and make sure you include your name, title and location.
Don't forget to get family and friends to donate at au.movember.com